Especially for Business Owners, Entrepreneurs, and anyone looking to enjoy Long-Term Business Success!
In just 60 Minutes... I'll Reveal to You the Powerful Secret to Doubling, and Even Tripling, Your Profits in 3 Months Or Less... And How To Consistently Get Amazing Results For Long-Term Business Success!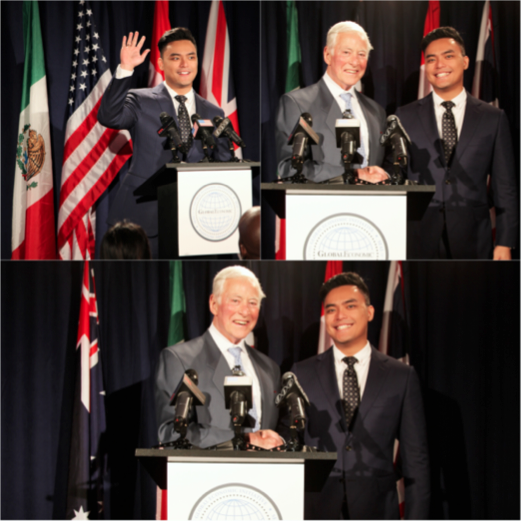 From: Imran Md Ali (United Nations speaker and Serial Entrepreneur)
3 Shenton Way, Shenton House #19-01, Singapore
Dear Business Owner/Entrepreneur,
If you're an ambitious business owner looking to explode your profits in a short time, pay attention... because what I'll be revealing will BLOW YOUR MIND.
If you want to step up and play at a higher level, what you'll learn soon will give you a quick-and-easy, step-by-step guide to breakthrough from your current levels.
If you're 100% ready to stretch yourself and enjoy long-term, super profitable business success, this is your lucky day... because you'll be TOTALLY FREAKED OUT at what you'll soon learn.
Before I go into that, my name is Imran, a serial entrepreneur who runs 5 successful businesses that generate big profits on auto pilot.
Contemporary Artisans Gallery (Art gallery since 2009), in 2 countries
Saga Coaching Singapore (Sports Manpower supply)
Education Profit Systems (Tuition Centre Marketing Consultancy)
The Profits Academy (Business Coaching Academy)
Hertslet & Co (Bespoke Tailoring Clothier)
I've been featured in various media like TODAY, The Straits Times, 93.8 LIVE, Berita Harian and The New Paper, where I shared about the success stories of my various businesses.
I've shared the stage with some of Asia's biggest names in business and success.
My entrepreneur efforts have been recognized by SPRING Singapore, where I was invited to be their funding evaluator. Another responsibility I have is being a part of Singapore Polytechnic's Business Advisory Committee.
I'm also the co-author of the book "Kaizen Business Principles", along with internationally-renowned business coach Brian Tracy. Recently, I was nominated for the JCI Top 10 Young Outstanding Persons Award.
But enough about my achievements... here're some amazing results my clients enjoyed after engaging my services:
Helping a tuition centre go from 10 students to 85 students in less than 2 months.
Helped a 21 year old to go from "no business ideas" to having 2 fashion boutiques in the prime estate areas of Arab Street
Taught a social media management coach to get consistent appointments and filled his calendar with paying clients
Showed a relaxation coach how to price her services higher, and at the same time get 6X more clients in less than 30 days
Filled up an entire auditorium with potential clients for a public speaking coach, 4 weeks in a row
Helped another tuition centre owner frow their business 8X in less than 5 months!
Helped a Marriage Preparatory Course business owner fill up ALL their seats weeks ahead of schedule (They've never done this before!)
I've had people tell me that I'm the go-to-guy for businesses that want to step up and play the bigger game… when they don't want to play around with amateurs who give them "maybes"… when they want certainty in the results they can achieve.
But here's the kicker: The tremendous results my clients get
(157 businesses and counting) are the exception.
Most businesses out there are struggling badly, barely even making ends meet. Their big dreams of big success, financial freedom, proving their worth etc... remain only that: dreams.
Weeks past. Then months.
Then years. Nothing changes. Another day just like yesterday. Tomorrow will probably feel like today.
In other words... they're stuck. They hit a plateau. They're banging their heads against an invisible ceiling, to no avail. Mediocrity awaits, and mediocrity means:
No Progress... Meagre Profits... Broken Dreams.
They may still stay in business... if they're lucky. The more likely scenario is they'll go out of business sooner rather than later. And that's the cold hard truth.
So be honest and ask yourself: Are you experiencing these problems?
If yes, what are you planning to do about it?
Here's some advice: If you persist with your same old methods, you'll get the same old results. It's just how the world works. No two ways about it.
So if your current methods are giving you mediocre results, the only way you can improve your situation is to take action and change.
Massive. Purposeful. Powerful. Action.
Are you willing to commit to that, or are you going to continue waddling in mediocrity, or worse... see your dreams of business success crushed for good?
For those action takers, I'm going to let you in on a little secret that can turn your business around completely. The one big difference between companies that get explosive profits fast, and those that remain stuck permanently.
This ONE thing is:
Intimate Knowledge of Online Marketing
In this technological-driven age, consumer behavior is largely focused online. Purchasing online is considered normal, and more and more consumers are latching on to this trend.
No matter which industry you're in, be it tuition industry, hair salon, spa, art gallery, framing shop, coaching, online clothing stores, MLM, property agent, public speaking coach tailor, etc, you have the potential to make massive profits just by having a presence online.
Without mastering online marketing, your business will be left in the dust by faster, sleeker and savvier competitors. You'll be left to wither and die a slow death in the harsh, unforgiving realm of business mediocrity.
The really shocking thing to me, is that many companies still prefer to waste their budget on unnecessary stuff like renovating a nice office, designing a nice looking logo, holding lavish events etc.
Don't get me wrong, those can be important and useful to a business. But without mastering online marketing and getting regular cash-flow, what's the point of wasting money on those expenses?
As Peter Drucker, Father of Management, said, "Business has only two functions - Innovation and marketing. The rest is cost."
Frankly, I'm very surprised that so many businesses do not know the importance of mastering online marketing yet. It's hardly a secret, and their competitors are probably already jumping on board.
The great news is... it's never too late! If you want to master online marketing and use it to explode your profits fast, dominate your niche and enjoy long term business success...
Because I'm offering you a FREE, no-obligations 60 minute consultation. In this short time, I promise that what I'll share with you about online marketing can be the turning point in your business.
When you book your appointment with me, this is what I'll reveal to you:
The simple and powerful 5-step framework to
succeed effortlessly in online marketing.
It's a step-by-step framework I designed that has been proven to give amazing results fast. All the 157 businesses I've helped so far have managed to reap the benefits after applying this framework to their businesses.
And don't worry if you're totally new to online marketing, if you're an "old school" business owner with little knowledge of the internet, or if you're not sure how to get started...
Because online marketing is a cinch to master! And I'll be there to tell you exactly what you must do. Just follow my instructions, and you'll enjoy great results in no time.
Here's what my 5-Step Online Marketing Framework can help you achieve:
Double, or even triple your profits in 3 months or less… minimal effort, maximum results.
Gain a significant edge over your competitors and leave them eating your dust, even if they're "bigger" than you and have more resources.
Set up your online marketing platforms to be automated lead generation tools, which can get you more leads than you can handle.
Create an irresistible offer that will give your prospects no choice but to whip out their wallets and buy from you.
Dominate your niche, enjoy long-term success and ultimate financial freedom.
And many more powerful and advanced secrets to business success.
However, before I tell you how to book an appointment with me, I have something important to tell you. I know I may lose some of you here, but I want to be completely upfront with you.
This is not suitable for everyone.
And I'm not just saying that. I mean it 100%.
That's because to achieve the results you want, you need to open your mind and accept that your current methods may not be the right way. You need to be willing to take action and change, perhaps radically, to see great results. You must expand your horizons to adopt new and innovative marketing strategies that can grow your business exponentially.
If you're not willing to do all that, I'm sorry to say this, but this is not for you.
But if you're ready to change your business for the better, I'm also ready to guide you step-by-step and lead you on the path to business success.
For a limited time, I'm offering you a FREE 60 minute consultation where I'll guide you on how my online marketing framework can be adapted to your business.
Normally, I charge $300 for an hour of consultation. But I'm offering it to for free because I truly want to help you get better at marketing and business.
I also conduct free workshops 2-3 times a month about various marketing concepts and techniques, and they're always filled to the brim.
I'm only limiting myself to a maximum of 3 free consultations per month so I can maximize my time to help business owners who are fast-action takers.
To show that you're committed to improving your business, stop hesitating and book a time with me now, before all the slots are taken!
If you're ready to step up... If you're ready to stretch and make the jump to the next level... If you feel fear and excitement at the possibilities ahead...
I'm ready to personally guide you across the dangerous wasteland of business mediocrity, to the promise land of long-term business success.
Just click the blue button below, fill in the application form, and we're all set! We will select the first 3 best applications and let you know on the outcome. Your road to big profits lies await!
I'll see you soon,
Imran Md Ali, Founder, The Profits Academy
P.S. If you're one of those who like to skip to the end (I do that sometimes also), here's a brief summary for you.
One of the main things that separate a successful business and a mediocre one is intimate knowledge of online marketing. When you master online marketing, you can make explosive profits fast, gain the edge over your competitors, and dominate your niche and continue doing so.
With my 5-Step online marketing framework, I've helped 157 businesses gain tremendous results in a short time.
If you like to find out more about online marketing and how my framework can help you, click on the button below and fill in the application form to book a free 60 minute appointment with me.
However, do hurry as slots are extremely limited. I'm only accepting 3 free consultations per month. To ensure you don't miss out, book early and book fast.
Get Your Free Business Success Session By Clicking The Button Below

This Is What Some Business Owners Have Said About Imran
I spent a weekend with Imran as coaches at the Rock Your Business workshop in Malaysia. I was impressed not just by Imran's high energy or contagious passion in sales and marketing, but his humility and enthusiasm to learn. The true secret to growth is the ability to learnt from any situation and everyone, and Imran consistently displayed that virtue. Imran's enthusiasm is also matched by action, which is vital for transforming knowledge into results that impact the society. Imran's ability to simplify concepts to make them inviting and applicable is empowering, revealing that Imran is a leader who intends to create leaders, not followers. Imran is a refreshing leadership to add to the compilation of future movers and shakers.

Li Kheng

CEO of Coffee Bean and Tea Leaf in China
"Imran thoroughly impressed me with his presentations, and showed the audience why he was selected to be part of a judging panel with us in May 2014. He knows his stuff, period"

Paul Zaman

The person who led the world's biggest IPO in 1998 of A$14billion with and a market capitalisation of over A$60billion for Telstra
"I am always on the lookout for prolific individuals with a a good social media presence, so when I came across Imran on social media, i waited and waited before approaching him.  Finally, after monitoring Imran closely, we decided to offer him a partnership role in our company and it's been a most rewarding decision"

Ramon Hertslet

Owner of Herstlet Bespoke
"Imran is a massive action taker, and that is part of the reason why I invited him to be part of the sage panel for entrepreneurs from Australia. This guy is going places, fast."

Dave Rogers

Winner of the Singapore Spirit of Enterprise Award and was also personally responsible for $1.28 Billion fund during his position in a trading arm
"Using Imran's outlined methods, I was able to fill up ENTIRE weekend baking classes in less than 24 hours, while previously I had to wait for weeks before it could get filled up. Once Imran helped us install the marketing methods, we managed to more than double our previous profits in less than 30 days!'

Suriani

Sister Cookies Baking Academy
"As a direct result of ONE of the marketing processes Imran did for our framing shop, we have now increased our total sales for 2013 more than 585% of the previous years. I recommend attending Imran's free sessions if you can"

Deen Founder of FramesAndGlass.com
Imran was fundamental to our growth hacking strategy and product positioning on Facebook. With his help, we secured customers from 23 countries and identify the key markets to focus on.

Adam Founder of Ladibird DSLR Camera for iPhone

"I've known Imran for a short period of time now, but it is no exaggeration that every time I sit down with him in our coaching sessions, I get new insights. energy and inspiration. Imran is deeply passionate about his work in entrepreneurship and empowering his clients. If execution is a key driver of excellence, he's a rare person who knows his talk and walks his walk. Every single mile of it."

Benjamin Loh Founder, Speaker's Flare Training & Consultancy (BenjaminLoh.sg)
I've been to many of Imran's events and have followed his tracks through social media. He is a leading authority when it comes to internet marketing for entrepreneurs within the Asia Pacific region. Imran's approach is entertaining, engaging and most of all he delivers great value consistently. I highly recommend anyone in that space to engage with his events, content or coaching sessions."

Linda Le

Asia's Leading expert in LinkedIn Marketing
"Being a young successful entrepreneur is no easy feat let alone being a serial one. On top of that, Imran manages to build a fast growing list of followers and supporters which attests to his value proposition. I believe these successes are just the tip of the ice berg. Beneath it lies an unselfish desire to help others become successful as well. Keeping integrity at his core will enable Imran to surprise the world with many more things in time to come."

David Lee

President of Association of Professional Trainers Singapore
"Before I met Imran, I already had some ideas on how to market my new business in the property market serving agents- I haven't actually launched it, so I brainstormed a lot with Imran over coffee and lunch. When I actually launched the business, as a direct result of Imran's shared strategies during the brainstorming sessions, I managed to get about 15 to 20 client appointments PER day, and can barely handle the sudden rush in leads. If you are looking for someone to help you with lead generation and increasing your enquiries, Imran is the go-to person in this field."

Samuel Zee Founder of Property Media Sg (www.propertymedia.sg)
Get Your Free Business Success Session By Clicking The Button Below