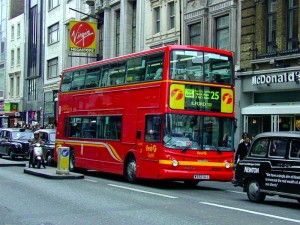 Making Sure Your Business Isn't Invisible
Just last night I stayed in a London hotel. It's really a city I don't know very well.
I was so tired after my 8 hour flight, my body was aching from sitting in an uncomfortable seat next to a rather oversized passenger who was taking up too much room! I had to sit at an awkward angle or otherwise use an intruding arm as a makeshift pillow. I mean I'm rather large myself so it was really a case of "this sections not big enough for the both of us!"
I needed some relief, someone to straighten me out and soothe my sore back so what did I decide to do?
Perhaps I needed to do some Googling, for massage.
Google "Mobile Massage London" and hope for the best.
"Great", I thought, "I'll be back to normal in no time."
How wrong I was…
The first bunch of pages (and I was aching enough to check a whole load of them) were plastered with directory listings containing virtually no useful information, the occasional independent Masseur, and a ton of commercial sites which auto-generated irrelevent information.
I mean really.. no one in London needs a mobile masseur? Or maybe the idea of getting ranked on the first page is alien to this sort occupational field? I already know many other businesses still don't even consider it.
But there I am thinking, "How difficult is it to be prioritized on a damn search engine? I mean do these guys know anything about getting their service seen by the customers that need them?"
Well, if they were serious, they'd probably do something like this…
Design a fairly basic website which appreciates that people searching for massage aren't feeling in optimum condition. They're probably stressed out by that nagging pain, and it's making them feel tired and demotivated.
Show that you understand how your potential customer feels and have an area in the site which provides information about you. Perhaps include a photo or even a video showing what you're all about.
The most important part of the site would be what Service you provide. Just explain in simple terms all the option they have. Whether it's an Indian Head Massage, or a Shiatsu style massage. Apply a catchy title to each offer, something like "Stress Less Service Package". Packages usually catch the eye because they give the impression of numerous benefits, rather than just one. 
Make sure it's easy to contact you, straight away. You want those lines of communication to be as direct as possible. A good idea would be to include your phone number, email address, Facebook and Twitter links at the top of every single page.
Everything should be easy on the eyes. You want them to be able to get the information they need easily, they're not there to read a novel! Throw in plenty of keywords that you know people will be searching for, directly connected to your service.
This part is a little more technical but it's worth doing right. Make sure that every page on your site is full of key words in both the page title and the description. Let's say you're building a site in WordPress, think about adding a plugin like Yoast and just fill in all the blank fields for all the pages on the site.
List yourself in as many free directories as you possibly can! And go into a little detail, don't just throw in your name and mobile number, hoping for the best. Complete all the available fields there because by doing that you help improve your chances of being found through the search engine. It's called SEO, or search engine optimisation. You could even use some SEO professionals to help maximize your hits.
Confirm and complete your listing on Google+ Places. It's basically a sort of free website which Google give you. It helps narrow down a search when people include a particular suburb name.
Create a YouTube presence. Hey, you don't need a professional video camera with a sound crew and some lighting experts. Even a basic webcam will do. Answer the top five FAQ's on massage and upload them to YouTube, filling out the headline, category and description fields, with a few keywords included.  Make sure you include popular tags and a link to your website in the description. Verbally mention your site in the video itself too.
Get Facebook and Twitter profiles for your business. Not only is this a way for people to contact you with enquiries but it's also a place where you'll probably receive regular testimonials from your clients. 
If you follow these steps you're on the right track because business should pick up at a tremendous pace. I think the next time I'm in your city, you might very well be getting your massage oils heated up for me! : )