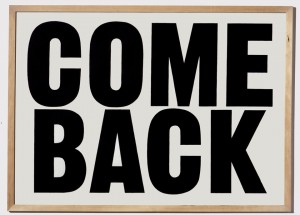 How To Make Sure New Customers Keep
Coming Back For More!
Just a few days ago I got a soothing massage from a local establishment which I'd never used before. It was one of the best massages I've had for a long, long time, I could tell they really knew what they were doing.
But even though they were experts at manipulating muscles and easing away those aches and pains, I realized they were complete novices at how to market their business. I mean the epitome of a business Newbie.
You know what happened? As I was on the verge of leaving, all they did was wish me farewell and say "hope we see you soon".
Point blank. That was the end of it!
They didn't request my email address or contact information.
They didn't provide me with a loyalty program or even a leaflet with their pricing information.
Nada. Zilch. Zero!
But the massage was so good, and the people so friendly, I felt obligated to share with them something I knew would help them. You see, I plan on going back to this place and I'd hate it if their business shut down because they weren't getting enough customers!
I said, "Do you guys know you're a little insane? Customers come in and you're not taking their email addresses and building a list?"
I asked them, "Are most of your customers familiar faces or are they just one-offs?"
And they replied matter-of-factly, "It's about 50/50. We get regulars and one-offs."
So I went on to ask in a totally rhetorical manner, "It'd be awesome if you could turn those one-off customers into regular customers, right?"
Unsurprisingly, they were intrigued by the idea. They didn't realize it was even possible.
Converting One-Off's Into Familiar Faces
At this point, I decided to share with them the ideal email marketing method for a business like theirs.
I advised them to obtain the email addresses of all of their customers. Every single one that walks through the door! And this is how you turn that email address into a golden egg:  
Within 24 hours after the massage, send over a health information email which reminds them it's important to stay properly hydrated after getting a massage.
About 7 days later, email them with a simple email, just asking them how they are. Don't include any sales material at all. Just something simple and friendly, checking up on them to make sure they're ok.
About 14 days after that second email, send one more email offering a great customer loyalty program. Not just a standard loyalty program, but something along the lines of this…
Creating An Effective Loyalty Program
Should the customer schedule an appointment today, they're offered access to a fantastic loyalty card scheme which works in the following way:
Every 10 massages they get a whole massage for free!
And to convince them to schedule the appointment immediately, you'd do this:
Tell them that if they book the appointment now, on their loyalty card you'll include the session they already did, the session they're about to schedule, and you'll cross off a totally free session too.
So all they now need to do is get another 7 massages and they'll receive another one absolutely free.
This is CRUCIAL! Allow me to explain why..
How One Pizza Company Used A Loyalty Program
An experiment was conducted by a small pizza delivery firm, which offered two separate loyalty card schemes.
And they discovered that "artificial progression" increased their customer loyalty by over 80%. That's right, EIGHTY PERCENT!
Over a period of around 10 days, they handed out loyalty cards to new customers who weren't already recorded on their database, or to customers who only bought pizzas once in a while.
One half of the loyalty cards which were handed out required that 8 pizzas were bought in order to obtain a free pizza. The other half of the cards needed 10 pizza buys.. BUT instead of requiring the full 10, the pizza place added 2 pizzas to the card as a free bonus. The one catch was that the pizzas had to be bought in 4 weeks, after which the card would reset to zero.
In both cases, the buyers needed to purchase 8 pizzas in total to obtain a totally free pizza. However, on the 10 pizza loyalty card, the buyer got 2 pizzas as a head-start.
Now that's "Artificial Progression" for you. It's also known as "Artificial Advancement".
So check out the results…
Over the next month, 11 people out of 45 got a free pizza because they purchased 10 – this was the group that didn't get artificially advanced.
However, 31 out of the 45 people who were given the artificial progression, bought enough pizzas to qualify for the free pizza offer. 
The same 8 pizzas… just a little tweaking… customer loyalty goes up by 80%.
Crazy!
Why Artificial Progression Works
But what was the reason? Why did artificial progression cause such a boost to customer loyalty?
It's because people are generally more likely to complete something when they feel they're close to the finish line, and there's not so far to go.
If you start a loyalty card with 2 pizzas stamped, you've already completed 20%. So you feel like you're much closer to that free pizza!
In both cases the customers needed to buy the same 8 pizzas to qualify for the free one but in one example (the 10 pizzas with 2 already added to the card) they had the impression that they were only 80% away from the finishing line. In the other example, where they just had to buy 8 pizzas, they weren't given a head start, so they felt like they weren't any closer to the finishing line, they still needed to complete 100% of "the race".
A cool piece of psychology, right? 
Absolutely!
But there's one thing you need to consider:
The artificial progression only has that sort of strong effect on a customer when there's a real reason why they're receiving it. Basically, if you give it to them for no reason, then it severely reduces the effect.
Some good reasons for applying the artificial advancement are the following:
The customer makes a sale and is rewarded with a loyalty card and artificial advancement.
A brand new customer is awarded a loyalty card with artificial progression as a way of thanking them for their first purchase.  
An existing customer is given a loyalty card with artificial progression as a thank you for their business to date.
So you see how it works?
Using the pizza company research, the data clearly shows that customers would be at least 80% more likely to carry on and complete their loyalty card when they're advanced a few places forward. It just seems so much more appealing to people when they have that head-start!
So, when you're offering a customer a loyalty card with the opportunity to have 3 massages already added on, you give them 30% completion so it'd be much more likely that they would complete the card!
At least 80% more likely!
But it gets even better than that…
These one-off customers might not have had regular massages before but after they are getting that many massages you'll find that many of them will develop a massage habit!
Remember, the massage business just had to send out 3 simple emails to their new customer. The customer got the loyalty card on the 3rd email and so their habit of getting regular massages began.
Isn't basic marketing fantastic? I just love it!
Now let's take all this knowledge back to your own business…
Ask yourself, how do you follow-up with those valuable new customers?
What steps do you take to try and convert new customers into repeat customers?
Sending smart emails is the KEY.
If, for some reason, you're not already creating an email list of your customers, it's time to start doing that.
And if you're failing to follow up with the new customers that have just used your business for the first time, you should really start doing that too.
The tone of your emails should always come across as a friend who's trying to help. Try to avoid being a salesman, your product will ultimately sell itself but sometimes customers just need a gentle nudge to start using it regularly.
But show them data, send them real research, and confirm to them why they made an intelligent decision. That will prove to your customers that you really have their best interests at heart, and will also help to alleviate buyer's remorse, which is a sort of regret that some people get after buying new products or services.
To greatly increase your chances of customers returning to you, use loyalty programs and include some form of artificial progression to make the offer seem all the more enticing!
But I'm sure you already know, operating a Business ISN'T EASY!
You've got to make sure you:
Have a product or service that people will buy, and then find ways to get them to purchase it.
The creation aspect is totally your call.
If your product or service is no good then these psychological tactics, such as the artificial progression loyalty program, just aren't going to be effective in the long run.
You need a great product or service to begin with, only then is it really worth marketing it. And marketing is something that you should consider investing both your time and money into.
Let me explain it a little further:
Strategy For Selling More
Like I just mentioned, your job is to make sure that your products or services are as good as they can possibly be. And, you need to be able to repeat the same high quality, again and again.
Making sure that happens can, in itself, eat up most of your time. But if you intend on selling more, it's imperative that you learn how to correctly market your business, and that can also be a full-time job too!
Now as we've just seen, there are small tools like customer loyalty that can help marketing your business an easier, more productive and ultimately more lucrative task.
Make it a goal to learn more about marketing so that you'll give yourself the best possible chance of success. The best place to start is by checking out more of our articles right here!
Hope you enjoyed this particular article, I'll be back soon with more tips for your business success. And have the patience, take the time to learn this stuff through and through, don't feel like you need to be artificially advanced just to get ahead.
To your success, Imran