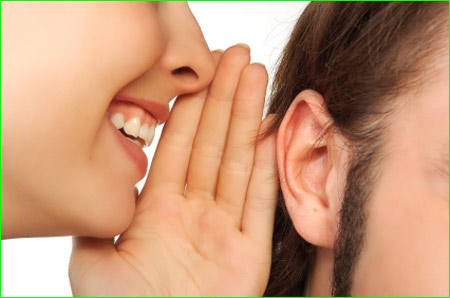 Word-of-Mouth Magic
If you ask a group of small business owners what their best way of obtaining business is the response will probably be unanimous. They're going to tell you "word-of-mouth marketing!"
But how do you create word-of-mouth? You can't just click your fingers and hope it just magically appears into existence?
Word-of-mouth takes some effort to cultivate, and there are a number of useful things you can do to greatly increase your chances of getting some great results.
Recommendable   
Make sure you always do good work, I mean that's what makes people recommend you to begin with. Show up to the job and take care with your appearance and presentation. Be friendly and professional. The better you are at your job, the more you listen to your clients needs, the more referable you're going to become!
If you're looking for word-of-mouth, then covering these essential basic requirements is really, really important.  Turn up to a job with a grumpy face, moaning about the traffic and the clients going to think twice about using you next time or referring you to their friends. They didn't hire you so they could be your counselor, they hired you to do a good job.
Presence
Stay in the limelight, keep in touch with your customers and have an ongoing, consistent presence. I send out a newsletter every 2 months through the snail mail method, and also send an email update once a month. I don't always get a great response but it does help me stay connected with my customers and reinforces my presence in their minds.
I've had a number of sales due to my newsletters alone. I know this because those customers took advantage of offers that were only printed in the newsletters. The value of those sales really covers the fee of printing up the newsletters and paying the delivery costs for a number of years. So it was all worth it in the long run.
Benefits of using You
You've got to ensure that customers are fully aware of what you do and also why you're superior to the competition! The newsletter can help with this too, it keeps customers up to date and informed. Highlight your strong points, why you rise above the competition and possibly even mention some of the pitfalls of using others instead of you. But if you do that then be realistic, don't make up wild stories, give real-life examples!
Appreciation
It's a good idea to send a small gift as a demonstration of your appreciation for a referral. What I tend to do is send a thank-you card with one of those scratch-off lottery tickets inside. Also, after a sale I send a thank you too. You can improvise. I've sent cash, chocolate, wine and even baby clothes, depending on the particular client. I try to get to know my clients a little better so that I can sometimes thank them in a more personalized way. So a client with a new born might get a little baby hat.
Request Referrals
 If you need more information on referral systems, I recommend a resource by Bob Burg above, just Google his name.
If your product or service is of a high quality, people are going to be eager to tell their friends and associates about you. Just a little question can bring in new business "Do you know anyone who needs… ?" Don't be afraid to ask because ultimately you are aiming to provide a product or service which is in demand and required. People will actually thank you for it.
Devise an Organized System
Create a system which documents your existing clients, the people they refer you to and the work that you've done for them. It makes it more tangible and it also means that if you need to offload work to other employees or sub-contractors then you're much better prepared to make that transition smoothly.
So there you go, stick to these guidelines and they'll help you generate more and more word-of-mouth recommendations. And remember, word-of-mouth is the greatest form of marketing so do your best to get people talking about you and believing in your product or service.
Now I've got to go, I have a client who needs a quote and I've got a half hour drive ahead of me!